We are glad you're here !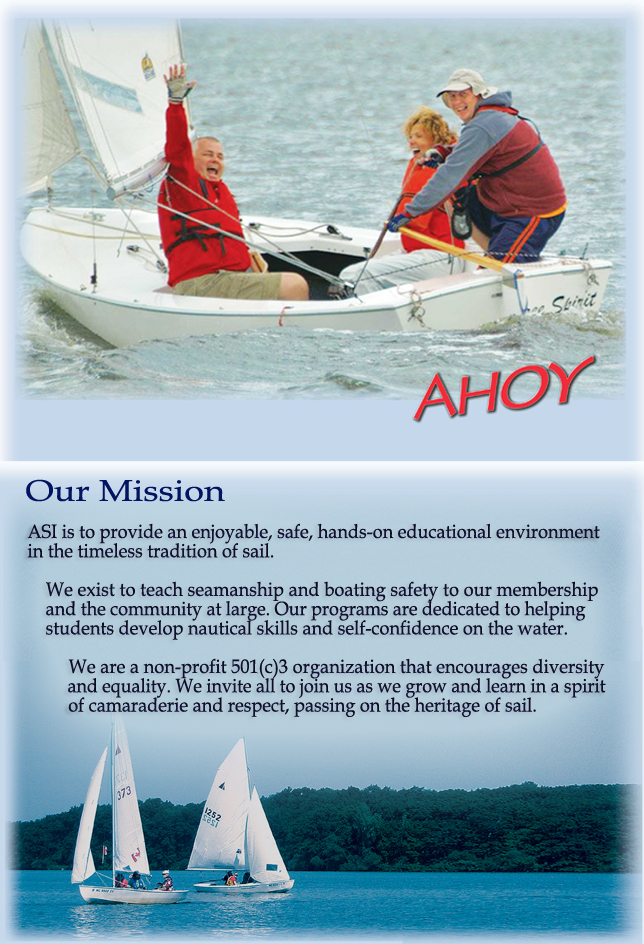 E-Mail Tracy Today!
| | |
| --- | --- |
| American Sailing Institute | Phone: 248-393-4280 Leave a message and your email address please |
| P.O. Box 210250 | Fax: 248-393-4284 |
| Auburn Hills, Michigan 48321-0250 | E-mail: secretary@sailasi.org |
| | Website: http://www.sailasi.org |
The American Sailing Institute (ASI) offers sailing instruction by experienced sailors at a low cost, in a program that has been in existence for more than 30 years. You'll learn the basics of sailing in 18′ Interlakes at either Kent Lake or Stony Creek Lake.
Learn and Sail
Our mission is to teach you sailing and water safety. We're proud of our sailing programs, and our success rate over the past fifty years.Take a sample lesson and Quiz and recieve a free email gift. We offer instructional opportunities for everything from beginning sailing on small centerboard boats, all the way to cruising on large keel boats. Our members have the opportunity to attend seminars and workshops on capsize recovery, docking skills, overnight cruising and U.S. Sailing Small Boat Certification, in addition to just taking our boats out for a sail.
Check out our Events Calendar for upcoming activities, find out about Other Sail And Learn Opportunities, see our FAQ page,
and of course Contact us if you still have questions or want to sign up for classes.
Are You Ready…
Hove-To and check us out
A personal message from the Director of the ASI mentor program:
Welcome aboard and thank you for considering our classes. We are an all volunteer, 301k, hands on organization.
---
Brief Overview
The American Sailing Institute (ASI) offers sailing instruction from experienced Sailors at a low cost. ASI offers ongoing sailing club membership for those with an interest in sailing, with a focus on instruction and skill improvement. We have Class schedules on the WEST Side or EAST Side of Southeast Michigan available. Current ASI Sail Pass holders have access to our Fleet of sailboats at Kensington Metropark, Stony Creek Metropark and at Jefferson Beach Marina!  Our Fleet Gallery displays some of our sailboats. Select which sailboat you see yourself on. You can also learn more about our introductory Level 1 classes by reading our Class Descriptions and Course Overview.
You can even experience a ride on one of our Keelboats on Lake St. Clair in a video, our Level 2 boat. Further down the same page preview a typical day sailing on Kent Lake interlakes, from set up to take down, our Level 1 boats. And when your ready to sharpen your skills take our Racing Program. Its free your first year because its a great follow up to your Level one classes. Novices race against Novices. Boat Crews have experienced mentors and practice races to make sure you enjoy and understand every race even as a new racer. Come win a Cup!
Lets talk some sailor-eze…From our Level One Manager John Tiley
hove (hv)
verb.
Past tense and past participle of heave. Chiefly nautical a past tense and past participle of heave.
To brake with the sail, to come to a rest, to take a break…
---
If you've looked over our class schedule and your still not sure, or if youve just signed up by talking to Lisa our Sail Secretary…Hove-to…take a break let me Welcome you and check out more about ASI.
You may find some answers at the ASI FAQ's . Or learn about our long Sailing and teaching tradition on our club History page. View the video below and get a feel for the whole club from our 18ft boats to our 30ft boats, Levels 1 to 4. See Our Fleet menu tab to see our boats and more videos.
Actually did you know we include free access to our 14 18ft centerboard boats for student practice sails with our Mentors and volunteers as part of the class fee. As a member and sail pass holder this access continues, at Kent or Stony Lakes.
Speaking of Mentors I am in the blue shirt in the video on the Home page. I am available to greet and guide you after you complete your class and start to look for practice sails on a path to your sailing adventures with ASI.
When I joined the club and took the Level one class I had already been sailing my own 20′ day sailor for 15 years. I joined more to do a "guy thing" with my brother-in-law. He had never sailed and had joined the club the year before me. And besides my kids were into their own events and crewing for dad wasn't cool any more.
And I found fun and willing crew members and experienced captains at ASI Sailing Club to sail with.
My brother-in-law now enjoys sailing on Lake Michigan on a friend's 40′ sail boat. We still meet up on Lake St Clair for Level 2 sails. And we're planning to do some cruising out of our ASI port at Little Current in the North Channel on the Level 4 boat!
We look forward to sailing with you.
See you on the water!
John Tiley
L1 Manager
Mentor Director