Whats after Level 1?
Level 2 Classes: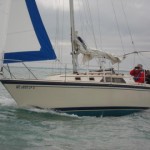 Become a Level 2 Captain and Sail the Level 2 O'Day 28 foot Keel boats – Interlude and Overture – on Lake St Clair. Keel Boat Class Schedule
Learn the basics of:
Navigation and GPS
Docking a keelboat
Anchoring
Keelboat sailing
Radio operation
Boat systems
Rules of the road for power boats
Refueling and pumpouts
And much more
Prerequisites are:
Declare sailing ability by submitting a sailing resume to head of Level 2 instruction.
Be an ASI member and Level 1 Sail Pass holder with all volunteer hours up to date.
Complete and present a certificate showing completion of US Power Squadron or US Coast Guard Auxiliary Safe Boating / Basic Seamanship course before the start of Level 2 classes. The class must have a navigation component.
Sail the Interlake 8 times during the 2013 sailing season.
Level 3/4 Classes: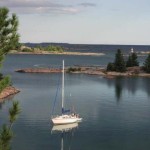 Level 2 sailors, the level 3/4 class for 2014 is just around the corner!
Sail on MANITOU – A 30′ Catalina, and VOYAGER III – A 30′ S2, usually kept at Jefferson Beach Marina for spring and fall, and summers in the Lake Huron's North Channel.
Sail to interesting ports in Lake Huron and the North Channel. Enter beautiful coves such as: Cover Portage Cove, Snug Harbor, Marianne cove, Browning Cove, Sturgeon Cove and the Benjamin Islands.
Learn advance navigation techniques and enhance your knowledge of GPS.
Do off shore sailing work
Advanced anchoring
Boat provisioning
Crew organization
Prerequisite are:
1. Hold a Level 2 sail pass with volunteer hours current.
2. Sail the Level 2 keel boats 8 times, 4 times or more as captain and 4 times as crew.
3. Email to the head instructor an updated sailing resume.
For more information for details contact our sail secretary at;
Voice: 248-393-4280
Fax: 248-393-4284
Email: secretary@sailasi.org
Or use the form here.
Or Keelboat_Classes@sailasi.org
ASI CONTACT FORM