Welcome to Students Home Port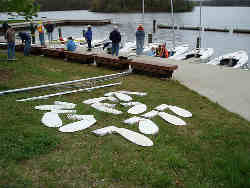 Education Director; JoAnne McClure
Mentor Director; John Tiley
Mentor Guide; Joan Swain
Level 1 Manager; John Tiley, Kent Lake
Lake Manager; Don Caley, Kent Lake
Lake Manager; Phil Sugg, Stony Creek
You can find a description of your Level 1 class here.
And your class schedule here.
Course documents for Level 1 classes can be found here.
Course documents for Advanced Level 1 classes can be found here.
Additional education documents can be found here.
Other club documents can be found here
How Do I Get Rated?
To use our Interlake sailboats on your own, you must first earn an ASI Level 1 rating. Obtain your L1 rating is simple and fun! Here's how you do it:
Attend all classes: intro, 2 shore schools, 2 water classes. If you miss a class, arrange to make it up at Open Practice Sails or through JoAnne McClure by attending a subsequent class.
Practice, practice, practice! Go on lots of practice sails and be sure to check your proficiency against the Water Test Form list of skills.
Attend Maintenance Class. You must do this prior to taking the written test.
Schedule a water test with a Test Instructor (a list is published in the Burgee). Bring your sail pass and your water test form to the test.
Study your materials, including the text book, class notes, materials and documents from www.sailasi.org; then schedule a written test. Bring your signed sail test form and your sailpass to the test.
Students have two seasons to get their rating. If you cannot complete it the first season, you may obtain a second Student sailpass. After two seasons, if you still are not rated, you must retake the class at your expense.
Practice Sails
After completing your Level 1 class and the Maintenance class, you may take as many practice sails as you like. these sails are fun and and allow you to hone your skills before taking Level 1 rating tests. These practice sails are always conducted with a rated ASI sailor aboard who will help you safely sharpen your skills.
The skippers for practice sails are all experienced sailors who volunteer their time and talents so new students can become proficient sailors. Many of these skippers are also instructors.
The number of practice sails you may take is unlimited. You may contact John Tiley our Mentor Director anytime to arrange a practice sail. We also offer organized Practice Sails for students every Tuesday, Wednesday and Sunday, and new this year we have Thursday evenings at Kent lake:
Be Sure to personally Confirm dates and times with your days organizer or the Mentor Director John Tiley.
Information is provided in the club newsletter, the Burgee, and club calendar on this web site, Events.
WE ASK THAT ALL MENTORS AND STUDENTS CONTACT THE BURGEE TO SET OR ASK FOR A PRACTICE SAIL, at
asiburgee@gmail.com
In addition we offer regular organized sails, see names and days below, its best to get on those mailing lists.
Kensington Practice Sails

| Description | time | Contact |
| --- | --- | --- |
| Sunday Drive (Pirates Welcome) | 1:00 pm | contact Colleen L. |
| Party Tuesdays | 10:30 am | contact Warren P and Paula M. |
| Wet and Wild Wednesdays | 6pm – | Johnson |
| Typically Thursdays | 6 pm – Experienced Students Appointment only | Deb B |
Stony Creek Practice Sails

| Description | time | Contact |
| --- | --- | --- |
| Tradewinds Tuesdays | Starts June 23 | contact Felecia(Stony Manager) and see web event calendar |
What makes a Good Practic Sail?
We offer a number of interesting videos and several are specific to students. Check out our informative student videos here.
Next steps
After becoming rated L1 what then ?
A good next step is join racing.
After a year of sailing at L1 come step up to Level 2.
Be sure to take the Boating Safety Class offered by the Coast Guard or Power Squadron.
Dock Master Workshops
This is a great way to earn volunteer hours, help your sail mates and learn about docking by watching situations others get in and out of. Officially at this time you need to be a rated L1 to recieve hours, however we encourage every student to come DM with a rated member as mentor. And if you see a need to help dock a boat please assist those boats.
Dock Master is mostly at Kent Lake and you sign up with Anne O our dock master coordinator.
We need Dock Masters at all club events and mostly at class times or practice sails.
In our dock box yo will find instructions, emergency numbers, and a badge to wear, sign in sheet, and book hook.
We offer an overview at our Docking workshop and at our practice sails.