Become a Level 2 Captain and Sail the Level 2 O'Day 28 foot Keel boats, Interlude and Overture, on Lake St Clair.
Members who have completed their Level 1 Interlake classes are encouraged to take our Level 2 class and learn to sail our Keelboats.
Learn to Sail the Big Boats!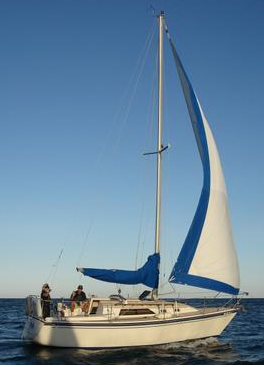 Sail beautiful Lake St Clair, view sunsets and enjoy peaceful all day and half day sails with family and other ASI sailors in comfortable 28' O'Day keelboats equipped with galley, overnight, and sanitation facilities.
The Level 2 Keelboat Course is an opportunity for sailors to expand their sailing/boating knowledge and experience. You will develop the skills and confidence to handle a keelboat under the direction of knowledgeable ASI instructors. .
Basic navigation and GPS
Seamanship skills including docking, motoring, and anchoring
Advanced sailing
Operation rules for power and sailing.
Basic maintenance: hull maintenance, changing oil and filters, etc.
Boat systems: electrical, sanitation, water, fuel.
VHF Radio communications
Have a ASI Level 1 rating
Complete a basic boating class offered by the US Power Squadron or US Coast Guard.
You must have sailed the Interlake sailboat at least 8 times in the previous season.
Take the Level 2 Keelboat Course and you will sail longer and farther than ever before! Level 2 rated sailors can time-share either "Overture" or "Interlude"; our 2 28′ O'Day keelboats with 12 HP auxiliary diesel engines out of Jefferson Beach Marina all summer.
You can find the Level 2 Class Schedule here.