American Sailing Institute Level 1 Course Info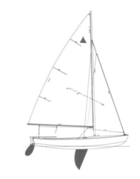 Students learn to sail an Interlake, an 18' centerboard sloop, in light to moderate winds on an inland lake at Kensington Metropark or Stony Creek Metropark. No prior sailing or boating experience is required; however, even those with many years of sailing experience can benefit from this course. All new members start with this class. Students will learn the parts and functions of a sailboat, sailing terminology, as well as how to make the sailboat go where they want it to go.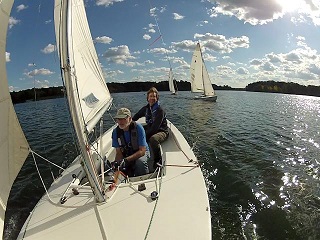 The Level 1 course consists of a two-hour hands-on introduction to the sailboat, 6 hours of shore school, and 14 hours of on-water instruction with an ASI instructor aboard with two or three students per boat. The shore school classes are taught at both east- and west-side locations. The on-water classes are taught at either Kensington Metropark in Milford, Michigan or Stony Creek Metropark in Shelby Twp, MI. After completing the classes, students have unlimited opportunities to practice sailing with a rated ASI sailor for the entire season. We have a mentoring program at Kent Lake that meets on Tuesdays, Wednesday evenings, and Sundays.
We're here to answer your questions Contact Us or call Traci at 248-393-4280.
The course also includes an Interlake maintenance class. It is offered on the first and third Saturday of June, August, and September, and the third Saturday of July, from 9 AM to 1 PM at the Kensington Metropark East Boat Launch. There is also an Interlake Maintenance Class at Stony Creek, check the Burgee or Club News blog for dates. This class will teach you how to:
Raise and lower the mast of an Interlake.
Splice dock lines.
Tune rigging.
And much more!
Stony Creek Lake, Stony Creek Metropark
Sailing at Stony Creek first requires getting the boat into the water, since there are no permanent slips, as at Kensington. The boats are kept in the boat yard on trailers. Consequently, you must have a trailer hitch or make arrangements with your crew for one.
At Stony Creek Lake, the boats must be towed a short distance to the ramps for launching. It does take a bit more work before you are sailing, but more work doesn't necessarily mean more time. You don't have to open dock boxes for things like life vests and sails, because they are kept with the boat. Bailing the boats after rainy days is seldom necessary as it is at Kensington. Another advantage to sailing at Stony Creek is that the hulls are cleaner and do
not accumulate algae as at Kensington Metropark where the boats are continuously in the water.
The detailed procedure for launching the boats at Stony Creek is covered in the Level 1 sailing classes.
Sailing School at Stony Creek Metropark