Level 2 sailors, the level 3/4 class for 2014 is just around the corner!
Once you learned to handle diesel powered keelboats in our Level 2 class, we offer upper level classes and teach you the skills necessary to captain a boat and cruise the great lakes for extended sails of a week or more.
Sail on MANITOU – A 30′ Catalina, and VOYAGER III – A 30′ S2, usually kept at Jefferson Beach Marina for spring and fall, and summers in the Lake Huron's North Channel. Sail to interesting ports in Lake Huron and the North Channel. Enter beautiful coves such as: Cover Portage Cove, Snug Harbor, Marianne cove, Browning Cove, Sturgeon Cove and the Benjamin Islands.
Level 3 – Learn Captain a cruising sailboat!
During the course of the Levels 3 and 4 training, the student goes from being a day sailor on small inland lakes to being a captain capable of cruising The Great Lakes for extended periods of time. In the Level 3 classes students learn seamanship and navigation skills required for this type of sailboat cruising.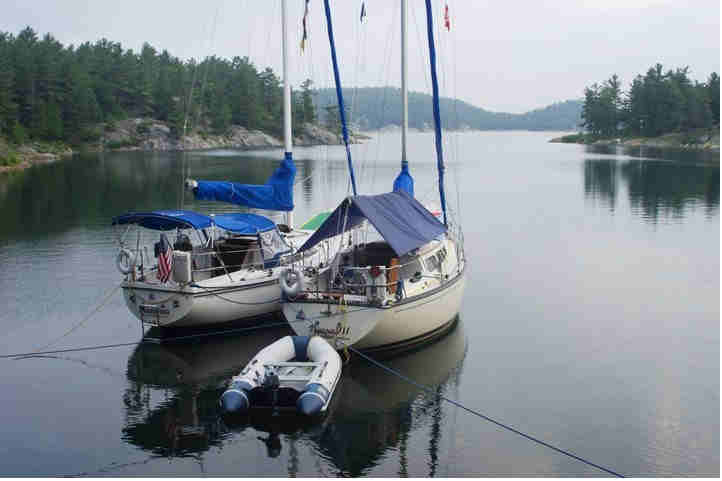 There are five shore school class sessions where students are taught advanced navigation and seamanship skills. Students work a set of real navigation problems that they will later use in their on-the-water classes. Safety and emergency procedures, electronics (including GPS), and cruise planning are taught in shore school as well.
In early spring students have three maintenance classes on the boats while they are on shore at the marina.
These are followed by the on-the-water classes during which students sail our 30' cruising boats on Lake St. Clair. These on-water classes take three full days and an overnight weekend sail to Canada. Upon successful completion of the Level 3 class, members can use our cruising boats on Lake St. Clair and western Lake Erie.
Continuation of seamanship and navigation skills from Level 2
Operation of boat systems: engine, plumbing, waste water, electronics
Basic boat system repairs
Intermediate sail trim
Review of MOB using: Figure 8 and Quick Stop recovery methods
Advanced docking techniques
Safe boat operation in crowded marina areas
Anchoring
Advanced navigation, chart plotting, and use of GPS
Emergency operations including motoring in fog conditions
Sailing in heavy weather conditions
Use of VHF radio
Galley operation
Hold a Level 2 sail pass with volunteer hours current.
Sail the Level 2 keel boats a minimum of 8 times: 4 times or more as captain and 4 times as crew.
Send a sailing resume to the Head of Keelboat Instruction.

Level 4 – Plan and execute an extended cruise

This is ASI's highest level of sailing instruction. Upon successfully completing Level 3, students can participate in a week-long sailing adventure in which they apply the skills they learned in Level 3 and are taught advanced skills needed for extended cruising. During this week long class students are also introduced to many ports and harbors along the Michigan and Ontario shores of Lake Huron. In addition, they are travel to many of the popular anchorages and coves in the North Channel.

The boats are staffed by an ASI instructor, but the students do the planning, provisioning, and navigating to get our 30 ft. cruising boats across Lake Huron and Georgian Bay to their summer home in the North Channel, one of the top cruising destinations in the world. After successful completion of the Level 4 class, for a nominal fee, members can use our 30 ft. cruising boats on Lake St. Clair, western Lake Erie, or wherever they are based in Lake Huron or Lake Michigan.
Continuation of topics covered in Level 3 training plus:
Advanced navigation and chart plotting to plan a safe course for a cruise from JBM across Lake Huron to Manitoulin Island
Advanced anchoring techniques including safe rafting-up methods
Orientation to North Channel including popular coves and anchorages
Docking techniques in adverse conditions of wind and current
Provisioning for a cruise of three days or more
Overnight sailing
Cruise planning; crew selection
Safety and health awareness on a cruise of more than two days
Dinghy towing and operation
Successful completion of Level 3 training
Check the Level 3-4 Schedule here.