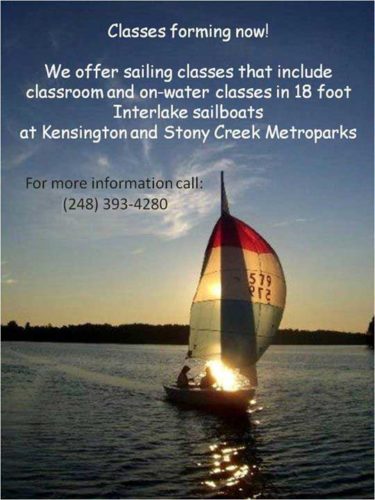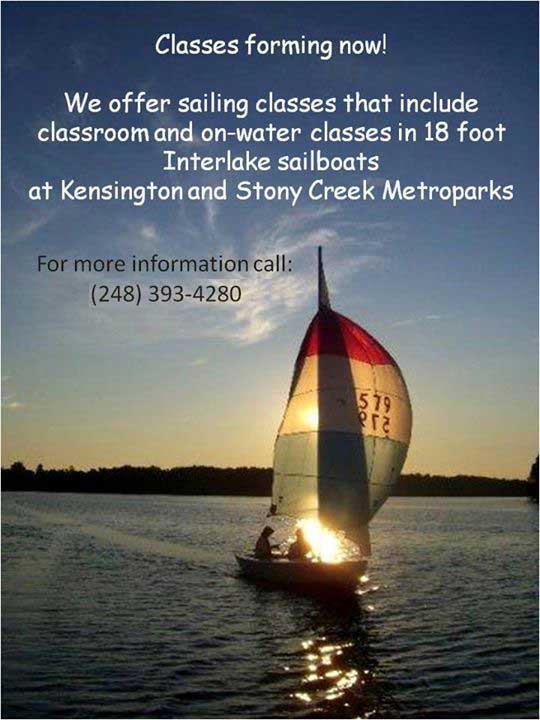 American Sailing Institute is a Community Sailing Organization that is teaching the joy of sailing in Southeast Michigan.
Sailing all summer – only $380.00.  Includes shore school and water classes, sailing lessons and practice sails with mentors , includes course materials and unlimited sailing opportunities at Kensington and Stony Creek Metroparks in boats provided by ASI! 
Returning membership only $245.00 for the sailing season.
Click to see Eye On Detroit Vid here.
ASI featured on "Eye On Detroit"
Come Join ASI !
Level One Classes Forming Now…Schedule Details.
Early sign up before April 15th! Classes are in May, June and Sept. (call to check on late openings) September class openings still available this season.
CALL OUR OFFICE TO SIGN UP or ask questions 248-393-4280
Classes are forming now
For details about beginner or intermediate sailing classes, sailing club membership or our advanced sailing curriculum, please see our class schedule and Class Overview or contact American Sailing Institute's sail secretary, Traci at 248-393-4280.
Our Invitation To You
ASI Southeast Michigan's Premier Sailing Organization
American Sailing Institute is a Michigan Sailing School that teaches the joy of sailing in a social environment to adult sailors of all ages and interests.
We are an energetic, enthusiastic, diverse group of sailors who want to share with you the joy of sailing, seamanship and safety on Michigan's waterways.  American Sailing Institute (ASI) has a 50 year history of teaching adult sailing classes and small boat safety courses.  Our members sail on our large fleet of boats from three locations in Southeast Michigan.
Our Fleet of Sailboats have convenient docking privileges on Kent Lake at Kensington Metropark in Milford, MI and Stony Creek Lake at Stony Creek Metropark in Shelby Township, MI.  Our larger sailboats are located at Jefferson Beach Marina in St. Clair Shores, MI on beautiful Lake St. Clair.
We hope you'll join us for our adult sailing safety classes, our captains training, our small boat certification or just to enjoy a wonderful sailing experience with other members in our organization.
ASI is a non-profit 501(C)(3) organization. Call us for information on tax deductable Donations or Membership forms 248-393-4280.